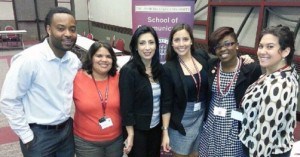 The dynamic growth of the U.S. Hispanic market leaves the U.S. economy in constant need for professionals trained in Hispanic Marketing Communication.
Thanks to the foresight of Dr. Felipe Korzenny, FSU founded The Center for Hispanic Marketing Communication in 2004. This cutting-edge training facility is devoted to educating students and business leaders in the field of Hispanic Marketing Communications. Faculty and students working within the Center are conducting ground-breaking research on the consumer and cultural behavior of Hispanics and serving as an informed, innovative resource for the Hispanic marketing industry.
To remain an educational leader in Hispanic marketing communication, the Center must attract outstanding faculty who can direct the Center's research, maintain close ties to the Hispanic Community, engage leading Hispanic Marketing professional in the Center's activities, collaborate with leading national scholars and attract innovative students.
With your support we will continue building the Center into the preeminent Hispanic Marketing Communications program in the world and provide students with unique opportunities and skills needed for 21st Century Hispanic marketing professionals.